7
August 12, 2015 by Bernadette ~ The Bumbling Bookworm
Waiting on Wednesday is a bookish meme hosted by Breaking the Spine, shining the spotlight on upcoming releases that we're eagerly awaiting to be released 🙂
Today's book I've chosen that I can't wait to read is Signs Point to Yes by Sandy Hall!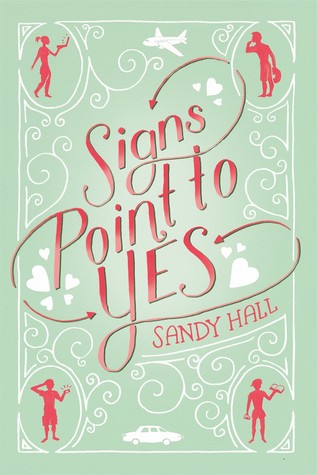 Signs Point to Yes by Sandy Hall
Publisher/Year: Swoon Reads, 20 October 2015
Genre: Young Adult, Contemporary, Romance
Goodreads Synopsis
The author of A Little Something Different brings you the most adorkable romance ever.
Jane, a superstitious fangirl, takes an anonymous babysitting job to avoid an unpaid internship with her college-obsessed mom. The only problem? She's babysitting the siblings of her childhood friend and new crush, Teo.
Teo doesn't dislike Jane, but his best friend Ravi hates her, and is determined to keep them apart. So Teo's pretty sure his plans for a peaceful summer are shot. His only hope is that his intermittent search for his birth father will finally pan out and he'll find a new, less awkward home. Meanwhile, at Jane's house, her sister Margo wants to come out as bisexual, but she's terrified of how her parents will react.
In a summer filled with secrets and questions, even Jane's Magic 8 ball can't give them clear answers, but Signs Point to Yes.
Why I can't wait to read it:
I absolutely ADORED Sandy Hall's debut novel, A Little Something Different.  It was cute, quirky, and so much fun to read!  So naturally, I can't wait to read Signs Point to Yes and hopefully recapture some of that magic.