Leave a comment
August 11, 2015 by Bernadette ~ The Bumbling Bookworm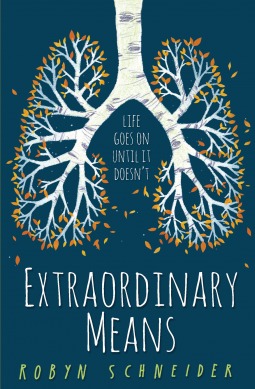 Extraordinary Means by Robyn Schneider
Publisher/Year: Simon & Schuster AU, 1 June 2015
Genre:  Young Adult, Contemporary, Romance
Format: eARC and Paperback
Source: Courtesy of the Publisher
Rating: 4 stars
Other books from author: Better Than Yesterday, The Beginning of Everything and more…
Book Depository | Goodreads | Website | Twitter
I received a copy of this book from the publisher in exchange for an honest review.  This does not affect my opinion of the book or the content of my review.
Goodreads Synopsis
A bitter-sweet, coming-of-age novel that's perfect for fans of John Green and Stephen Chbosky.
When he's sent to Latham House, a boarding school for sick teens, Lane thinks his life may as well be over.
But when he meets Sadie and her friends – a group of eccentric troublemakers – he realises that maybe getting sick is just the beginning. That illness doesn't have to define you, and that falling in love is its own cure.
Extraordinary Means is a darkly funny story about true friendships, ill-fated love and the rare miracle of second chances
What I Thought…
This book was a great read, and it delivered on what was promised in the synopsis.  It was darkly funny, there were some great friendships and ill-fated love, and there was even miraculous second chances for the lucky few.
Extraordinary Means featured one of my loves in books that I used to read when I was younger: boarding school.  However, unlike Malory Towers in the Enid Blyton books of my youth, this is no ordinary boarding school, nor is it voluntary.  Latham House is a boarding school for sick teens, all of whom have been diagnosed with incurable tuberculosis (TB) and have been sent there to avoid spreading the disease to their friends and family.  Some people get better and their disease goes into a kind of remission, meaning they can go home.  Some others don't have it so lucky, and they eventually succomb to the effects of the disease.  Lane, our protagonist, is sent to Latham House, and it's there that he meets Sadie and her misfit friends.
The subject matter of Extraordinary Means was certainly dark and sad, as you'd expect from a story about kids with TB, but I found that I just couldn't stop laughing while reading this book.  It's rare for me to actually laugh aloud when I'm reading a book – the Harry Potter books are the rare exception to this rule.  I'll cry at the drop of a hat, but laughing not so much.  Which is odd because I laugh all the time when I'm not reading!  That aside, Extraordinary Means was extraordinary in the way the characters sought to find the humour in life and enjoy their time at Latham House.  Lane, Sadie and their friends didn't allow themselves be mentally dragged down by TB, and their antics were certainly fun to read.
I adored the relationship between Lane and Sadie, who'd actually known each other years before they met again at Latham House.  Once they got over their misunderstandings, they were such an adorable couple.  This book is recommended for fans of John Green, and while I'm wary of making such recommendations, they do have qualities that remind me of Augustus and Hazel Grace from The Fault in Our Stars.  They're so cute together, and their interactions are swoonworthy, but they don't let their relationship take them away from their friends.  Charlie, Nick and Marina don't just fall by the wayside for Lane and Sadie.  Friendships are equally as important as love in this book, and I think that's an important message to get across.
The ending was not my favourite in some respects.  I'm a happily ever after kind of girl, and while Extraordinary Means fulfilled that to some degree, in other ways it was most definitely not a happy ending.  Of course, that's life, and we don't all get a happily ever after, so in that respect I can't fault it.  I think I was just lulled into a false sense of security by the humour in the book, so I forgot about the TB element a bit, and then there were two incidents close to the end of the book which got to me a bit.  I won't spoil it and say what they were, but it all left me feeling a little unsatisfied in the end, as did the rather open ending.  I wanted to see where things went for Lane, and I don't think I really got that closure.  Of course, that's just me!
Overall, I quite enjoyed this book.  I found Extraordinary Means to be entertaining and thought provoking.  A uniquely funny book, with sad parts in between, I highly recommend it!
What did you think of this book?  Did you enjoy it?