2
July 29, 2015 by Bernadette ~ The Bumbling Bookworm
Waiting on Wednesday is a bookish meme hosted by Breaking the Spine, shining the spotlight on upcoming releases that we're eagerly awaiting to be released 🙂
Today's book I've chosen that I can't wait to read is When We Collide by Emery Lord!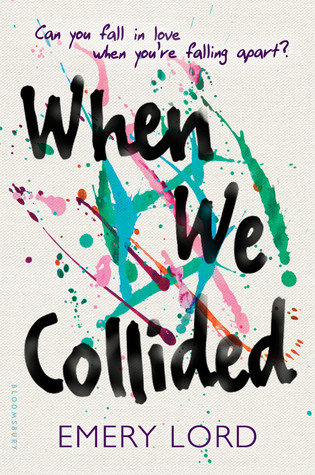 When We Collided by Emery Lord
Publisher/Year: Bloomsbury, 5 April 2016
Genre: Young Adult, Contemporary, Realistic Fiction
Goodreads Synopsis
Meet Vivi and Jonah: A girl and a boy whose love has the power save or destroy them.
Vivi and Jonah couldn't be more different. Vivi craves anything joyful or beautiful that life can offer. Jonah has been burdened by responsibility for his family ever since his father died. As summer begins, Jonah resigns himself to another season of getting by. Then Vivi arrives, and suddenly life seems brighter and better. Jonah is the perfect project for Vivi, and things finally feel right for Jonah. Their love is the answer to everything. But soon Vivi's zest for life falters, as her adventurousness becomes true danger-seeking. Jonah tries to keep her safe, but there's something important Vivi hasn't told him.
Perfect for fans of E. Lockhart and Jandy Nelson, When We Collided is a powerful story of two teens whose love is put to the test by forces beyond their control.
Why I can't wait to read it:
I love both of Emery Lord's other books, Open Road Summer and The Start of Me and You.  This one sounds a bit more intense, perhaps a more serious subject matter, but no less amazing.  Honestly, this author has become a bit of an auto-buy author for me, and I can't wait to see if the trend continues!