4
July 9, 2015 by Bernadette ~ The Bumbling Bookworm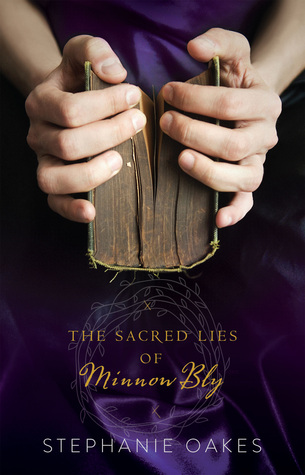 The Sacred Lies of Minnow Bly by Stephanie Oakes
Publisher/Year: HarperCollins Australia, 22 June 2015
Genre: Young Adult, Contemporary, Thriller
Format: Paperback, ARC
Source: Courtesy of the Publisher
Rating: 5 stars!
Other books from author: This is her debut book, she's also publishing The Arsonist which is expected in 2016.
Dymocks | Booktopia | Bookworld | Book Depository
Goodreads | Website | Twitter
I received a copy of this book from the publisher in exchange for an honest review.  This does not affect my opinion of the book or the content of my review.
Goodreads Synopsis
The Kevinian cult has taken everything from seventeen-year-old Minnow: twelve years of her life, her family, and her ability to trust.
And when Minnow rebelled, they took away her hands, too.
Now the Kevinian Prophet has been murdered and the camp set aflame and it's clear Minnow knows something. But she's not talking. As she adjusts to a life behind bars in juvenile detention, Minnow struggles to make sense of all she has been taught to believe, particularly as she dwells on the events that led up to her incarceration. But when an FBI detective approaches her about making a deal, Minnow sees she can have the freedom she always dreamed of; if she is willing to part with the terrible secrets of her past.
Powerful and compelling. this remarkable and brave debut novel reveals the terrible dangers of blind faith. And the importance of having faith in yourself.
What I Thought…
I had managed to avoid a lot of the hype surrounding this book before I read it; I had heard it was good but shielded myself from all the reviews that were sure to be building this up to be a cracker.  Well, all I can say is that it is definitely a cracker and well worth the hype!
When I was sent this book, I had a vague idea that it involved a girl and a cult, but for some reason I thought this was fell in the realm of fantasy.  I think it might've been the part in the synopsis about Minnow's hands being taken from her, I didn't take this literally!  This book is not a fantasy book, it's a thriller of sorts following Minnow Bly and her life as part of the Kevinian cult.  Minnow found herself a member of the cult when her parents joined when she was six years old, and there she stayed until she was seventeen years old.  Minnow, her parents and many other followed the Prophet into the forest, and (almost) no one knew they were there until one night when fire turned the camp to dust and the Prophet was found murdered.  What followed next was Minnow's time in juvenile detention, her dealings with an FBI agent, and coming to grips with what she had been taught to believe versus the world as it truly stood.
This book kept me hooked from start to finish.  If I didn't have to eat, sleep and work, I wouldn't have put it down even for a second – as it was, I couldn't find the time to read this in one sitting and that was super annoying!  All I wanted to do was read this book and I didn't want it to end.  The cult element was especially intriguing, I've always found cults to be particularly fascinating – not in the sense that I want to join one, I actually can't imagine ever being in that situation where I could be convinced to do so.  The part that I find intriguing is wondering what compells other people to join, not to mention what compells the so-called leader to prey on typically vulnerable people.  While the book is from Minnow's perspective and not her parents' or the Prophet's, the snippets of the early days of the cult were particularly disturbing and evocative writing indeed.
Minnow, what can I say about Minnow… I just wanted to hug her and never let go.  Thrust into a world she doesn't understand and broken to the point where she's almost beyond repair, to watch Minnow's journey is a brave thing to behold.  Unable to run away from the demons she's left behind, one wouldn't judge her for curling up into a ball and staying that way for a very long time.  And initially, that's certainly how she feels.  However, as she faces her past and the injustices she experienced in the Kevinian cult, we begin to see Minnow find faith in herself rather than in the belief systems of others.  While we may not have experiences in our lives like Minnow, there is a coming of age point in all of our lives where we have to trust ourselves and not others in order to succeed or move forward in our endeavours.  Oakes portrayed this brilliantly in Minnow Bly, and I found myself relating to that in particular.
I think it's best if you go into this without knowing too much, so I'm not going to say any more about the book itself.  Don't let the hype stop you from reading this one because you'll be missing out on a treat indeed.  There's not one bad thing I can say about this book, it was simply amazing.  You may not like thrillers, you may not even like religion, but put all your preconceived notions aside and pick up this book.  It is one not to be missed!
What did you think of this book?  Did you enjoy it?