1
June 16, 2015 by Bernadette ~ The Bumbling Bookworm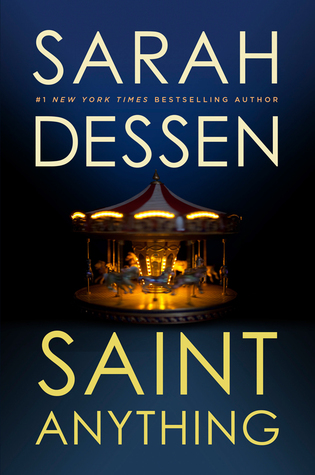 Saint Anything by Sarah Dessen
Publisher/Year: Penguin Books, 5 May 2015
Genre: Young Adult, Contemporary, Realistic Fiction, Romance
Format: eARC
Source: Courtesy of the Publisher
Rating: 4.5 stars!
Other books from author: Too many to list!  Check them out here 🙂
Book Depository | Goodreads | Website | Twitter
I received a copy of this book from the publisher in exchange for an honest review.  This does not affect my opinion of the book or the content of my review.
Goodreads Synopsis
Peyton, Sydney's charismatic older brother, has always been the star of the family, receiving the lion's share of their parents' attention and—lately—concern. When Peyton's increasingly reckless behavior culminates in an accident, a drunk driving conviction, and a jail sentence, Sydney is cast adrift, searching for her place in the family and the world. When everyone else is so worried about Peyton, is she the only one concerned about the victim of the accident?
Enter the Chathams, a warm, chaotic family who run a pizza parlor, play bluegrass on weekends, and pitch in to care for their mother, who has multiple sclerosis. Here Sydney experiences unquestioning acceptance. And here she meets Mac, gentle, watchful, and protective, who makes Sydney feel seen, really seen, for the first time.
The uber-popular Sarah Dessen explores her signature themes of family, self-discovery, and change in her twelfth novel, sure to delight her legions of fans.
What I Thought…
Bow down to the QUEEN of YA contemporary, Sarah Dessen has struck again!  All I could think when I finished this book was how much I wanted to reread it right then and there, which is a pretty rare thing for me at the moment.
How great is that cover?!  The blue gives it a bit of a dark and twisty feel, yet the carousel lends a bit of innocence – it's almost oxymoronic.  But really, that's perfect for this book and for Dessen's writing in general.  I somethings think that the covers for Dessen's books are a little too sunny and happy, and they don't always fit with the content of her books.  Dessen's books aren't all about sunshine and rainbows, they're realistic and mirror real life which isn't always perfect.  Real life certainly isn't perfect for Sydney, and this cover is spot on for this book.
Another thing which is spot on is Dessen's portrayal of young adult life and the people who live it, in all their difficulties and triumphs.  She writes complex, multi-dimensional characters and doesn't skirt the big issues.  Dessen tackles a number of issues head-on in Saint Anything, including drink-driving and its consequences, unwanted attention from creepy dudes, drug abuse and fractured families.  It's a bit darker than her other novels, and I loved Dessen for achieving this so realistically without tipping it too far over the edge.  She still manages to keep that innate spark which has made her writing so appealing for so many years.
I adored Sydney, and how she never let adversity stop her from doing what was right for her.  It can't have been easy for her to deal with her brother going to jail in a highly publicised drunk-driving accident.  On top of that, she decides to change schools to get away from it all as best she can, which leaves her without any friends at school at a time when she needs all the help she can get.  All of this would be enough for anyone to deal with, but Sydney's also having to contend with absentee parents whose relationship with their son overshadows that with their youngest child.  It's a miracle Sydney was able to deal with all of that, and I think the Chathams were a big part of helping her through.
Enter, the Chathams.  Oh my god, where can I sign up to find a family like this to befriend?  Layla has such a beautiful soul, to befriend Sydney no questions asked, when she knew somewhat about her past.  Mac, another guy to add to the list of ever-growing book boyfriends, kind and gentle.  Their parents were also amazing, especially their mum – I really respected her direct manner and the way she spoke to Sydney about the effects of her brother's accident.  It gave Sydney the ability to have an outlet, to talk about what happened and the guilt she felt rather than bottle it up around her parents.  As for Sydney's parents, if only her mother wasn't so blindsided by Peyton and her father such a doormat…  If anything left me frustrated when reading this, it was them and their unequal treatment of their two children.
Another thing that left me frustrated was definitely Ames, the guy was such a creepy douche!  There aren't enough books out there demonstrating unwanted male attention from a female perspective, in a way that's not outright or overtly disturbing, but Dessen achieved that spectacularly.  Ames was subtle enough in his attention towards Sydney, so much so that her parents encouraged him being around without realising the effect it had on their own daughter.  This book was very much about trusting your instincts and I hope it educates young people to do just that, espeically young girls dealing with unwanted attention that could put them in a situation that they don't want to be in.
From what I've read, this may be Dessen's last book for a while, while she works through her writing habits and what she wants to write next.  I hope that isn't so, but if it is Saint Anything is a fantastic book to pause on.  I highly recommend it, and hope you enjoy it as much as I did!
What did you think of this book?  Did you enjoy it?