Leave a comment
June 9, 2015 by Bernadette ~ The Bumbling Bookworm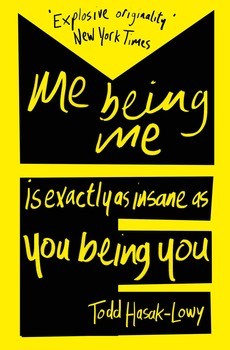 Me Being Me Is Exactly As Insane As You Being You by Todd Hasak-Lowy
Publisher/Year: Simon & Schuster AU, 23 April 2015
Genre:  Young Adult, Contemporary, Realistic Fiction
Format: Paperback & eARC
Source: Courtesy of the Publisher
Rating: 3 stars
Other books from author: His eclectic mix of books can be found here!
Book Depository | Goodreads | Website | Twitter
I received a copy of this book from the publisher in exchange for an honest review.  This does not affect my opinion of the book or the content of my review.
Goodreads Synopsis
A heartfelt, humorous story of a teen boy's impulsive road trip after the shock of his lifetime—told entirely in lists!
Darren hasn't had an easy year.
There was his parents' divorce, which just so happened to come at the same time his older brother Nate left for college and his longtime best friend moved away. And of course there's the whole not having a girlfriend thing.
Then one Thursday morning Darren's dad shows up at his house at 6 a.m. with a glazed chocolate doughnut and a revelation that turns Darren's world inside out. In full freakout mode, Darren, in a totally un-Darren move, ditches school to go visit Nate. Barely twenty-four hours at Nate's school makes everything much better or much worse—Darren has no idea. It might somehow be both. All he knows for sure is that in addition to trying to figure out why none of his family members are who they used to be, he's now obsessed with a strangely amazing girl who showed up out of nowhere but then totally disappeared.
Told entirely in lists, Todd Hasak-Lowy's debut YA novel perfectly captures why having anything to do with anyone, including yourself, is:
1. painful
2. unavoidable
3. ridiculously complicated
4. possibly, hopefully the right thing after all.
What I Thought…
I was excited to read Me Being Me Is Exactly As Insane As You Being You, however it ended up being a bit of a misfire for me.  However, I've come to the conclusion that this is for reasons mostly due to my own hang ups, rather than any major issues with the book itself.  Let me explain how!
The story follows Darren's progression in his changing family dynamic.  He's trying to make sense of this, and on top of that the girl of his dreams has disappeared off the face of the earth.  I struggled to relate to Darren, and actually found myself relating more to the adult characters in the novel.  For a coming-of-age story where Darren is squarely the focus, I'm certain this is not the intended effect of the author!
I think that perhaps this book was pitched at a level that is a bit too young for me, and that's why I struggled in this regard.  Darren is a fifteen year old boy who experiences the shock of his life, at a time when he already seems to be having a tough go of it.  His actions and progression through the book are what you'd expect from a teenaged boy, but as a woman in her mid-to-late 20s who never went through that stage, I just couldn't relate.
I picked up this book largely due to lists, it sounded like such an innovative way to write a book.  It reminded me a lot of one of my favourite novels when I was growing up, Feeling Sorry for Celia by Jaclyn Moriarty, which is told entirely in the format of letters and notes.  Needless to say, I was keen for it to be executed well!  And for the most part, it was.
Sometimes I wondered what the purpose of a particular list was, some of them were a bit random.  Given how long this book is it probably could've been trimmed a bit in that regard.  Also, in the beginning I found that the lists could be jarring when there was a flow starting to happen in my reading, which made things a bit difficult.  On the whole though, the more I read the more I got used to the idea, and by the end of the book I almost didn't notice.  I was so engrossed in the story and I wasn't distracted by the writing style like I was in the beginning.
For all the lists, the length of the book and the surprising amount of detail, this book was also spectacularly vague on some major points!  There were a lot of things left open-ended, including the ending, and especially in relation to Zoey, Darren's crush/obsession.  I won't spoil it for you, as basically anything I say about her will have spoilery effects, but I was just like "what is her deal?! I gots to know!!"  Unfortunately, I wasn't left satisfied there, nor with the open-ending, but again this is more my issue than that of the book.  I'm the type of person that likes everything tied up into a nice neat bow, and this didn't do it for me.
But hey, if you like innovative writing styles, coming-of-age stories, male POV and main character, not to mention employing your imagination, you should check this book out.  While it may not have done it for me, there's no reason why you might not enjoy it 🙂
What did you think of this book?  Did you enjoy it?