4
May 11, 2015 by Bernadette ~ The Bumbling Bookworm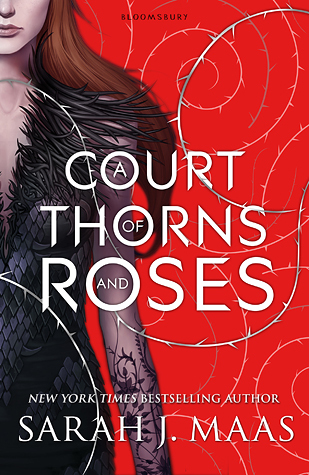 A Court of Thorns and Roses (ACOTAR #1) by Sarah J. Maas
Publisher/Year: Bloomsbury Australia, 5 May 2015
Genre: Young Adult, Fantasy, Romance
Format: eARC
Source: Courtesy of the Publisher
Rating: 5 stars!
Other books from author: Throne of Glass, Crown of Midnight, Heir of Fire, The Assassin's Blade, and more…
Book Depository | Goodreads | Website | Twitter
I received a copy of this book from the publisher in exchange for an honest review.  This does not affect my opinion of the book or the content of my review.
Goodreads Synopsis
The breathtaking start to a seductive high-fantasy from New York Times bestselling author of Throne of Glass series.
Feyre's survival rests upon her ability to hunt and kill – the forest where she lives is a cold, bleak place in the long winter months. So when she spots a deer in the forest being pursued by a wolf, she cannot resist fighting it for the flesh. But to do so, she must kill the predator and killing something so precious comes at a price.
Dragged to a magical kingdom for the murder of a faerie, Feyre discovers that her captor, his face obscured by a jewelled mask, is hiding far more than his piercing green eyes would suggest. Feyre's presence at the court is closely guarded, and as she begins to learn why, her feelings for him turn from hostility to passion and the faerie lands become an even more dangerous place. Feyre must fight to break an ancient curse, or she will lose him forever.
What I Thought…
I don't even know where to start with this review, I'm completely overwhelmed by how amazing this book is.  I've trying to get my thoughts into some coherent form but it's been proving challenging and I finished reading ACOTAR four days ago!  All I've had going though my head since then is "OMFG, WTF, so freakin' good!"  Let's see if I can explain why ACOTAR is the latest in Sarah J. Maas' bookstravaganza of awesome…
First of all, the world building is sublime.  Can I just say, and I'm not the first to say this, Maas is the master of world building and ACOTAR is no exception.  First came the cold drudgery of Feyre's life before she was whisked away by Tamlin to the faerie lands of Prythian, and what a life it was.  It reminded me a teensy bit of Katniss' life before the reaping in The Hunger Games, and much like Katniss Feyre's family relies on her to hunt to help keep them alive.  Once we land in Prythian, it's like nothing I've ever experienced before.  What starts as hostile land to our heroine slowly emerges showcase the forgotten beauty of the Spring Court and Feyre's new life.  I can honestly say that I was well and truly immersed in this new world, and I didn't want to leave it even for a second.
Beauty and the Beast is one of my all time favourite fairy tales, and as a retelling I could definitely see the parallels in ACOTAR.  It wasn't overt nor was it overdone, it was simply superb.  I loved Feyre as Belle, strong and supporting her family when they weren't able to support themselves.  Tamlin was inspired, the fae beast whose face remains covered even when not in his wolf form due to a curse.  Feyre's old life in the village where no one understands her, being taken away and imprisoned by Tamlin and the rest that followed…  I just about jumped for joy each time I recognised some parallel in ACOTAR which reminded me of Beauty and the Beast!  Kind of embarrassing when I was reading this during my lunch break at work…
I also adored the main characters and their relationships with one another.  Maas excels at writing strong females and Feyre is no exception.  Much like Celaena in Throne of a Glass, Feyre has a will of steel and when she wants something she will stop at nothing to achieve it.  The romance that built between her and Tamlin as the story went on had me swooning, it was SO HOT.  I love it! More of that in the next book please!  In fact, I pretty much spent most of the book swooning over all three of the male leads – Tamlin, Lucien, even Rhysand, they were the epitome of swoonworthy leading men.  How is it that Maas manages to make me fall in love with every swoonworthy guy there is?  Don't get me wrong, I ain't complaining, it's a talent is what it is!
Last, but certainly not least, that ending was simply perfect.  For once, a book without a cliffhanger that still managed to keep me wanting more.  Maas clearly demonstrates that a cliffhanger is not always needed to keep the reader hooked (well, not this reader at least!).  This easily could've satisfied as a standalone, but there's certainly more to explore in Prythian and the surrounding lands, and I for one would've been disappointed had this been it.  I can't wait for Book #2 to be released so I can delve a bit further!  I may have to do a reread sooner than expected just to get my fix 🙂
I've never been one for fantasy, and the way Maas has managed to hook me in with ACOTAR is nothing short of amazing.  This book is outstanding, simply superb, and without a doubt sexy as hell!  ACOTAR was everything I hoped for and more; if I wasn't on the Sarah J. Maas bandwagon before, I sure as hell am now!  I've already gone out and bought my copy, so what are you waiting for?!
What did you think of this book?  Did you enjoy it?