1
March 4, 2015 by Bernadette ~ The Bumbling Bookworm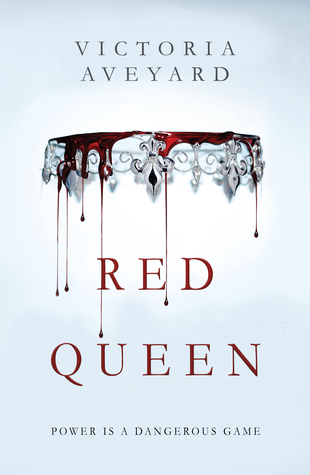 Red Queen by Victoria Aveyard
Publisher/Year: Hachette Australia, 10 February 2015
Genre: Young Adult, Fantasy, Dystopian
Format: eARC
Source: Courtesy of the Publisher
Rating: 4 stars!
Other books from author: This is her debut novel!
Book Depository | Goodreads | Website | Twitter
I received a copy of this book from the publisher in exchange for an honest review.  This does not affect my opinion of the book or the content of my review.
Goodreads Synopsis
Mare Barrow's world is divided by blood—those with red and those with silver. Mare and her family are lowly Reds, destined to serve the Silver elite whose supernatural abilities make them nearly gods. Mare steals what she can to help her family survive, but when her best friend is conscripted into the army she gambles everything to win his freedom. A twist of fate leads her to the royal palace itself, where, in front of the king and all his nobles, she discovers a power of her own—an ability she didn't know she had. Except . . . her blood is Red.
To hide this impossibility, the king forces her into the role of a lost Silver princess and betroths her to one of his own sons. As Mare is drawn further into the Silver world, she risks her new position to aid the Scarlet Guard—the leaders of a Red rebellion. Her actions put into motion a deadly and violent dance, pitting prince against prince—and Mare against her own heart.
From debut author Victoria Aveyard comes a lush, vivid fantasy series where loyalty and desire can tear you apart and the only certainty is betrayal.
What I Thought…
If I had to choose one word to describe Red Queen, I'd go with betrayal – the synopsis got it in one.  This book has it's highs and lows, but the consistent theme throughout is betrayal. If you're not the one doing the betraying, watch your back because you're sure to find a knife in it sooner or later! I tell you what, this certainly made for an entertaining read.
In the beginning, I was mostly preoccupied with Red Queen's similarities to The Hunger Games. Mare is very similar to Katniss; they're about the same age, living in some of the poorest areas of their land, prickly in nature and loyal to their friends and family.  They each have a male best friend, slightly older, that they've grown up with. Much like in Panem, there's rebellion coming, in this case brought about by the elusive Scarlet Guard, and you sense that Mare will form a huge part in that. There's fighting in arenas, class divides, and conscription in place of the reaping, which you can avoid in certain circumstances.  But because I was so preoccupied with this, I became distracted and didn't absorb a lot of the key information provided early on about the various characters and power types. A reread would certainly help me with this, especially before book #2 is released in 2016.
After a while, Red Queen took on a life of its own and diverged from The Hunger Games, and I began paying more attention to the story at hand.  And what a story it was!  It was fast-paced and super exciting, and it had more twists and turns than a hedge maze. The divergence between Reds and Silvers refers to the colour of their blood, red for the Reds and silver for the Silvers. This plays a huge part in Red Queen, as the Silvers have powers and the Reds do not. There was one particular twist in the novel where I was so shocked by the turn in events, it left me dumbfounded. The book was enthralling, and while it took me a little while to become hooked, once I was I couldn't put the book down.
The powers were certainly very entertaining, and I found myself envying the Silvers for their various different power types. Some could move water, others manipulate fire or metals, some could suppress powers in others, while others could heal. And that's only the tip of the iceberg! As a Red, Mare shouldn't have any powers, but an incident in front of the Silvers proves otherwise and she's quickly swept into their world. I really want to know how/why this mutation came to be, and Red Queen leaves us with a cliffhanger in that regard. Of course, there wouldn't be much point to a trilogy if everything was resolved in book #1!
The book was also not without its romances, with Mare the centre of the drama.  Between the princes Maven and Cal, along with her childhood friend Kilorn, Mare was torn! Not to mention the flirtation with her pseudo-bodyguard in huge Silver palace, Lucas… If you want to know who I'm supporting, it's Cal and Mare all the way. This, of course, may be difficult given where we leave things in Red Queen, but I'm still optimistic!  The romance was well written, and didn't come across as a mere side-story or forced in any way. It was entertaining, leaving me spellbound and unable to put the book down.
It took me a bit of time, but Red Queen eventually swept me up in all its twists and turns. Victoria Aveyard's debut novel was exciting and set up the trilogy brilliantly.  I can't wait for the rest of the trilogy to be released, although I'll have no choice but to wait… In the meantime, I'll definitely be adding Red Queen to my personal library.  I have a feeling it'll only improve with each reread!
What did you think of this book?  Did you enjoy it?