2
January 12, 2015 by Bernadette ~ The Bumbling Bookworm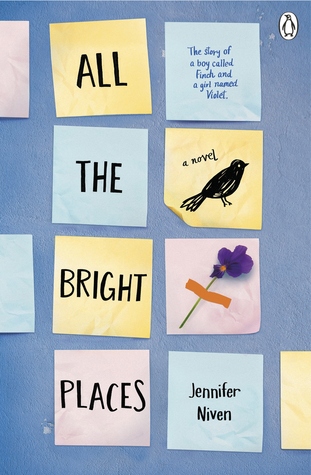 All the Bright Places by Jennifer Niven
Publisher/Year: Penguin Australia, 7 January 2015
Genre: Young Adult, Contemporary, Realistic Fiction, Romance
Format: Paperback, ARC
Source: Courtesy of the Publisher
Rating: 5 stars!
Other books from author: Velva Jean series and more…
Book Depository | Goodreads | Website | Twitter
I received a copy of this book from the publisher in exchange for an honest review.  This does not affect my opinion of the book or the content of my review.
Goodreads Synopsis
The Fault in Our Stars meets Eleanor and Park in this exhilarating and heart-wrenching love story about a girl who learns to live from a boy who intends to die.
Soon to be a major motion picture starring Elle Fanning!
Theodore Finch is fascinated by death, and he constantly thinks of ways he might kill himself. But each time, something good, no matter how small, stops him.
Violet Markey lives for the future, counting the days until graduation, when she can escape her Indiana town and her aching grief in the wake of her sister's recent death.
When Finch and Violet meet on the ledge of the bell tower at school, it's unclear who saves whom. And when they pair up on a project to discover the "natural wonders" of their state, both Finch and Violet make more important discoveries: It's only with Violet that Finch can be himself—a weird, funny, live-out-loud guy who's not such a freak after all. And it's only with Finch that Violet can forget to count away the days and start living them. But as Violet's world grows, Finch's begins to shrink.
This is an intense, gripping novel perfect for fans of Jay Asher, Rainbow Rowell, John Green, Gayle Forman, and Jenny Downham from a talented new voice in YA, Jennifer Niven.
What I Thought…
When I first read that synopsis, I thought "boy, that's some big shoes to fill!"  Rainbow Rowell, Gayle Forman and John Green are all favourites of mine, and to be compared to all three was a pretty big recommendation.  Well, the marketers of All the Bright Places needn't have bothered making the comparisons; this book stands all on its own and in a world of its own, without the need of other big name authors to promote it.
All the Bright Places begins with Violet and Finch at the top of the school bell tower, each on the verge of suicide for differing reasons.  Violet is still grieving the loss of her sister, and is struggling to live her life more than one day at a time.  Finch, on the other hand, has never felt like he belonged – labelled 'Freak' for most of his life, this is sadly not the first time he has contemplated suicide.  A bond is forged when they save one another, and when they are assigned to do a school project together their friendship is born.  Finch is adorable and oh so quirky, and in all his Finch-ness he is able to pull Violet from the malaise that has crippled her since her sister's death.  They work together, and their romance slowly blossoms.  Meanwhile, Finch continues to contemplate suicide and threatens to be consumed by his inner demons.
All the Bright Places does not skim over the serious issues; mental illness, grief, depression, suicide, familial discord, and the lack of support in the community for those with mental illness.  As a society, we have come a long way in recognising that more needs to be done to assist those with mental illnesses, however it is not enough.  Sadly, there are a number of people in the community that are not receiving the support services they need.  Like it or not, there is still a stigma attached to mental illnesses and this prevents many people from seeking help.  It also causes those who are not unwell to dismiss depression or any other form of mental illness as attention-seeking or a weakness, whereby a person has the choice to simply 'get better.' Sadly, it doesn't work that way, as Niven all too clearly depicts in All the Bright Places.
The contrast between the treatment Violet and Finch each receive following their stint on the bell tower is stark.  Violet is treated as the hero, worshipped for her role in saving Finch.  Finch, on the other hand, is derided as a 'Freak' and subjected to gossip and innuendo as the school's crazy person.  Similarly Violet, who is clearly grieving and depressed following the death of her sister, is treated as a delicate flower by her teachers, friends, ex-boyfriend, counsellor and parents.  Finch, however, does not receive the same courtesy.  His outlandish behaviour is fobbed off by friends and family alike as 'that's just Finch,' his teachers see him as a trouble-maker, and his peers subject him to daily bullying.  His father has constantly abused him both verbally and physically from a young age, and his mother has neglected him and continues to do so.  The only one who sees a problem is Violet, and also his counsellor Embryo to a degree, but neither one seems to be able to help him for various reasons.
As I was reading All the Bright Places, I couldn't figure out why so many bloggers before me had spoken of bawling their eyes out while reading this book.  That is, until I realised that I too was crying and had been for some time without even noticing!  The last time I did that was when I read The Book Thief, almost twelve months ago now.  I often emote while reading books, but to be so engrossed that I don't realise I'm crying, that only happens once in a blue moon.  But that's the thing about All the Bright Places; it sneaks up on you and before you realise it, you're knee deep in Violet and Finch's lives.
I've struggled to write this review, mostly because I wasn't sure I could do this book justice. To be honest, I don't think I have. It takes an amazing talent to leave me feeling both heartbroken and inspired at the same time, but that exactly how I felt when I came to the end of All the Bright Places.  Violet and Finch grabbed a hold of my heart and didn't let go, not even when I closed the last page and sat in silence for a very long time.  All the Bright Places is one of those books that doesn't come along very often, but when it does it grabs you by the throat and doesn't let go, even in the days after you've finished reading. All I can say is get your hands on a copy and read it now. Not next week, not next month, not next year. Now. Trust me, you won't regret it.
What did you think of this book?  Did you enjoy it?