Leave a comment
January 2, 2015 by Bernadette ~ The Bumbling Bookworm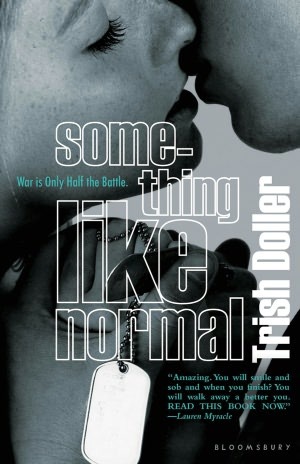 Something Like Normal by Trish Doller
Publisher/Year: Bloomsbury, 19 June 2012
Genre: Young Adult, Contemporary, Romance
Format: Hardback
Source: I bought it!
Rating: 4.5 stars!
Other books from author: Where the Stars Still Shine (review), The Devil You Know (coming 2015)
Book Depository | Goodreads | Twitter | Website
Goodreads Synopsis
When Travis returns home from a stint in Afghanistan, his parents are splitting up, his brother's stolen his girlfriend and his car, and he's haunted by nightmares of his best friend's death. It's not until Travis runs into Harper, a girl he's had a rocky relationship with since middle school, that life actually starts looking up. And as he and Harper see more of each other, he begins to pick his way through the minefield of family problems and post-traumatic stress to the possibility of a life that might resemble normal again. Travis's dry sense of humor, and incredible sense of honor, make him an irresistible and eminently lovable hero.
What I Thought…
This is the second of Trish Doller's books that I've read, and it was every bit as wonderful as Where the Stars Still Shine.  It hooked me in from start to finish, and I wanted to re-read it the minute I was done.  That's always a fairly good sign that I've enjoyed a book!
Something Like Normal may be a quick read, but is by no means lacking in substance.  It deals with the issues of war, post-traumatic stress disorder, adjusting to the 'real world', familial stress, and death.  Despite the fact that this book is only 224 pages, it packs a punch!  At times when I read short books, I find them lacking; like they need another 100 pages to tie things up properly or so they don't feel rushed.  Not so with Something Like Normal, it was perfectly timed and essentially perfect all round.
This is one of the few books, not just YA but all genres, that I've read from a male perspective.  I found it quite refreshing, and I hope to read more male POVs in the future.  Doller writes complex and intriguing characters, frustrating yet likable, all at the same time.  Travis was quite a lovable character, even in what is probably the worst time of his life.  Something Like Normal is a snapshot of his life in one of his bleakest periods, between his personal trauma and his crappy family.  He doesn't always do things I agree with – Paige being one of those issues – but he's not perfect, he's flawed like the rest of us.  I'd love to hear more from him in the future, not because I think the book didn't tell enough but more because that's how I feel when I love a character – the snapshot we're given is never enough.
Of course, not all of Doller's characters are likeable, but then you don't like everyone in life – Travis' dad and brother, and Paige, they all made me want to bang my head against a wall.  Everytime one of them came on the scene, the negative impact on any progress Travis was making was clear.  There will always be people in like who try to tear you down or kick you when you're already there, and these were the people doing that to Travis.  It's how he eventually dealt with this that showed his development in such a short time.
Despite the pain, there are still some beacons of hope shining through, like Harper. Harper was such an enjoyable character and her romance with Travis was one of my favourite parts of this novel.  It was so nice to read a female character that's strong and doesn't put up with any of Travis' bullshit, no matter how damaged he may be.  She was supportive without pandering to him, and given their rocky relationship while growing up, he was lucky to get that!
I pondered whether Doller had become an autobuy author in my review for Where the Stars Still Shine, and I'm pleased to say that I'm a definite YES on that now!  I will be one of the first in line for The Devil You Know, and I can't wait to have more of Doller's books in my life.
What did you think of this book?  Did you enjoy it?