2
December 26, 2014 by Bernadette ~ The Bumbling Bookworm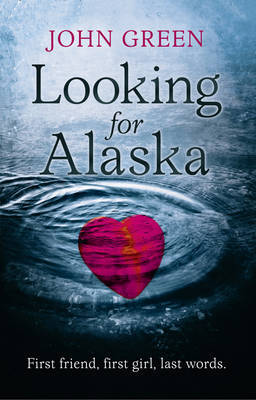 Looking for Alaska by John Green
Publisher/Year: Harper Collins, 1 March 2011 (originally 3 March 2005)
Genre: Young Adult, Contemporary
Format: Paperback
Source: I bought it
Rating: 3 Stars
Other books from author: The Fault in Our Stars, An Abundance of Katherines, Paper Towns, Let It Snow, Will Grayson, Will Grayson and more…

Book Depository | Goodreads | Twitter | Website
Goodreads Synopsis
A deeply affecting coming-of-age story, Looking for Alaska traces the journey of Miles Halter, a misfit Florida teenager who leaves the safety of home for a boarding school in Alabama and a chance to explore the "Great Perhaps." Debut novelist and NPR commentator Green perfectly captures the intensity of feeling and despair that defines adolescence in this hip, shocking, and emotionally charged work of fiction.
Miles has a quirky interest in famous people's last words, especially François Rabelais's final statement, "I go to seek a Great Perhaps." Determined not to wait for death to begin a similar quest, Miles convinces his parents to let him leave home. Once settled at Culver Creek Preparatory School, he befriends a couple of equally gifted outcasts: his roommate Chip―commonly known as the Colonel—who has a predilection for memorizing long, alphabetical lists for fun; and the beautiful and unpredictable Alaska, whom Miles comes to adore.
The kids grow closer as they make their way through a school year filled with contraband, tests, pranks, breakups, and revelations about family and life. But as the story hurtles toward its shattering climax, chapter headings like "forty-six days before" and "the last day" portend a tragic event―one that will change Miles forever and lead him to new conclusions about the value of his cherished "Great Perhaps."
What I Thought…
I think there might be something wrong with me, I feel like I'm the only person who didn't really enjoy this book… Perhaps I was a victim of the hype monster – I feel like maybe this was built up a bit too much for me, and then it completely fell flat instead.
I don't know why but I felt irritated the whole way through this book.  I was irritated with the countdown as chapter headings, wishing it would all just hurry up.  I knew something was going to happen to a particular character (and I knew which one that was), so I was just like "happen already!"
I also found the characters irritating, especially Alaska – that girl drove me nuts.  I couldn't understand her actions and I didn't find her relateable.  Same with Chip, the Colonel, all of them really.  I know that I struggle with books when I can't find characters relateable on some level, or I at least have to be able to understand their perspective.  Unfortunately, I think that was part of the struggle here.
I think what got me through Looking for Alaska and what kept me reading was John Green's writing.  He has a way of keeping me interested no matter what, and I needed to know how this book ended.  Any other book, I probably would've put it down and DNFed it, given my level of irritation.  Not this book.  That's a testament to a talented writer and it was a big reason why I persevered with this.  No matter what I felt for the characters, Green's writing is first class.
I'm so annoyed I didn't enjoy this as much as my last John Green, The Fault in Our Stars.  I reckon I may have to give it another shot down the track, to find out if I truly am the odd one out!  I'm thinking that it may have been my frame of mind, but we'll see.  I'm still super keen to read other John Green books, I have Paper Towns and An Abundance of Katherines sitting on my shelves so I'm sure it won't be long before I venture back into the world of John Green.
What did you think of this book?  Did you enjoy it?