1
December 23, 2014 by Bernadette ~ The Bumbling Bookworm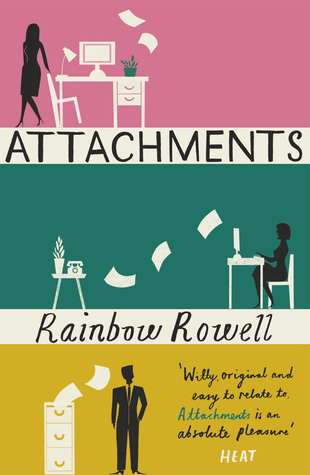 Attachments by Rainbow Rowell
Publisher/Year: Orion/Hachette Aus, 10 April 2012
Genre: Contemporary, Romance, Adult Fiction
Format: Paperback
Source: I bought it
Rating: 5 Stars!
Other books from author: Eleanor & Park, Fangirl, Landline and Carry On (expected 2015)

Book Depository | Goodreads | Twitter | Website
Goodreads Synopsis
"Hi, I'm the guy who reads your e-mail, and also, I love you . . . "
Beth Fremont and Jennifer Scribner-Snyder know that somebody is monitoring their work e-mail. (Everybody in the newsroom knows. It's company policy.) But they can't quite bring themselves to take it seriously. They go on sending each other endless and endlessly hilarious e-mails, discussing every aspect of their personal lives.
Meanwhile, Lincoln O'Neill can't believe this is his job now- reading other people's e-mail. When he applied to be "internet security officer," he pictured himself building firewalls and crushing hackers- not writing up a report every time a sports reporter forwards a dirty joke.
When Lincoln comes across Beth's and Jennifer's messages, he knows he should turn them in. But he can't help being entertained-and captivated-by their stories.
By the time Lincoln realizes he's falling for Beth, it's way too late to introduce himself.
What would he say . . . ?
What I Thought…
I have nothing but love for Attachments, it was such an enjoyable read and is easily among my favourite books I've read.  It was quirky and sweet, yet serious when it needed to be.
Taking place in 1999 at the turn of the century, the Y2K fear was rampant.  Enter Lincoln, the new IT guy at the company in question, whose job it is to make sure the company emerges from the crisis unscathed.  Part of his responsibilities include reading flagged emails and sending warnings to the authors in question, and it's not a duty he enjoys.  Enter Beth and Jennifer, and Lincoln's work suddenly becomes much more interesting.
I was 11 years old in 1999 and I can very clearly remember the Y2K panic that was happening at the time, the fear that all computer technology was just going to die when the clock struck 12:01am on 1 January 2000.  We all sat in wait at the showgrounds, and we were all pretty disappointed when nothing happened!  All the fearmongering and stockpiling for nothing!  Rowell captured that time period perfectly in Attachments, and it was a lot of fun to reminisce.  I haven't read many books set retrospectively in that time period – actually, I think Attachments might be the only one – but it was such a brilliant read.
Lincoln was so cute, I just wanted to smoosh his face!  From where he begins, living with him mum, no romantic prospects, not a lot of friends and an overbearing sister, his transformation was amazing.  He became more confident and really grew as a character over time, which was an absolute joy to read.  He was likeable in the beginning and always very kind, if a bit downtrodden, but he became more and more loveable to me as the book went on.
What can I say about Beth and Jennifer, except that I love them!  I want to be friends with them, can we make that happen?  Their interactions were all in email form and they were absolutely hilarious.  They had their moments of seriousness and of conflict, but what friends don't?  Certainly not true friends.  It takes a lot to make me laugh out loud when I'm reading (crying is another thing altogether, that I do at the drop of a hat), but there were moments in Attachments where these gals had me snorting in glee.
The romance between Beth and Lincoln was unconventional, especially for the 1990s, but I was barracking for them all the way.  I'd probably be completely freaked out if it happened to me, but for some reason Rainbow made me totally okay with the fact that he invaded her privacy and waited WAAAAY too long to own up to it.  I just kept thinking "aw, but he's so cute, she has to be okay with it!"
This is the first Rainbow Rowell book I've read and I know it won't be the last.  In fact, I'm certain of it; I have Eleanor & Park, Fangirl and Landline all sitting on my shelves waiting to be read!  I can't wait to dive into those books, and I highly recommend Attachments to everybody 🙂
What did you think of this book?  Did you enjoy it?
Category: Review | Tags: Attachments, Rainbow Rowell, Review