4
November 5, 2014 by Bernadette ~ The Bumbling Bookworm
Busting to Buy is a sporadic feature of mine, looking at all the bookish and other things I'd love to buy.  One thing I love about books and entertainment in general is all the extra stuff that goes with it.  There are so many wonderful things for a fangirl such as myself to buy to show my love for almost anything really; there's almost TOO much to choose from out there!  Feel free to participate, just link back if you do 🙂
Here are some of the things catching my eye at the moment…
French name, English Accent, American School. Anna Confused. Wall Clock
by The Art of Young Adult (søciety6)
I pretty much want to buy ALL THE THINGS from here, it's all amazing!  This clock is inspired by Anna and the French Kiss, and is wonderful.  Fun fact, the items are made by Gillian from Writer of Wrongs 🙂
Books Tote Bag by Thespngames (søciety6)
"You can't buy happiness but you can buy books and that's kind of the same thing."  So true!
Read Books Phone Cover by Olivia Joy St.Claire (søciety6)
This phone cover is PERFECT.  It's available for the iPhone and Galaxy, and I'm seriously contemplating getting one when I get my new phone.
Personalised Book Cover Mug by The Literary Gift Company (website)
Done in the style of the Penguin Classics, you can put anything you want as the text on the mug.  ANYTHING.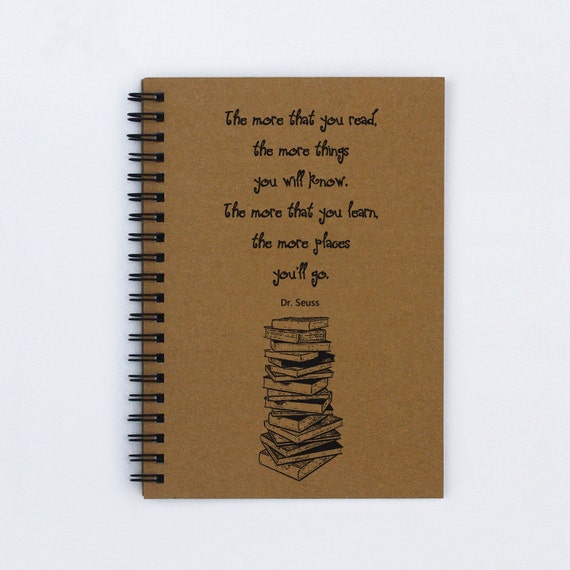 The more that you read… Notebook by FlamingoRoadJournals (Etsy)
I'm addicted to buying notebooks, and I'm always looking for new additions to my pseudo-collection!
There you have it, those are some of the things I'm busting to buy!  Any of them take your fancy?