Leave a comment
October 24, 2014 by Bernadette ~ The Bumbling Bookworm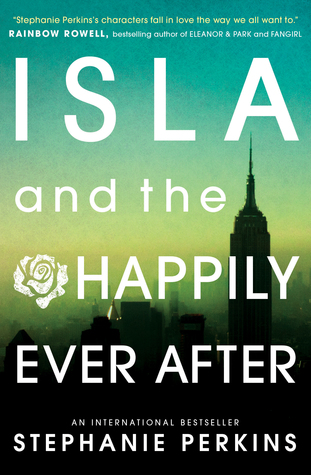 Isla and the Happily Ever After by Stephanie Perkins
Publisher/Year: Dutton (US)/HarperCollins (AU), 14 August 2014
Genre: Young Adult, Contemporary, Romance
Format: Paperback
Source: I bought it!
Rating: 5 stars!
Other books from author: Anna and the French Kiss, Lola and the Boy Next Door, and My True Love Gave to Me
Book Depository | Goodreads | Twitter | Website
Goodreads Synopsis
The café is boiling. The atmosphere is clouded with bittersweet coffee.
Three years of desire rip through my body and burst from my lips: "Josh!"
His head jolts up. For a long time, a very long time, he just stares at me.
And then…he blinks. "Isla?"
Hopeless romantic Isla has had a crush on brooding artist Josh since their first year at the School of America in Paris. And, after a chance encounter in Manhattan over the summer break, romance might be closer than Isla imagined. But as they begin their senior year back in France, Isla and Josh are forced to face uncertainty about their futures, and the very real possibility of being apart.
Set against the stunning backdrops of New York, Paris and Barcelona, this is a gorgeous, heart-wrenching and irresistible story of true love, and the perfect conclusion to Stephanie Perkins's beloved series.
What I Thought…
I honestly don't know how to write this review because I'm afraid I'm just going to gush and sound like a blithering idiot! Oh, to hell with it 🙂
I have been waiting a long time ISLA, although to be fair it's been nowhere near as long as most other people, since I only read ANNA and LOLA for the first time just over a year ago.  WELL.  Let me tell you, this was well worth the wait!
I read ISLA in one sitting and I was completely and utterly consumed by the maelstrom of teenaged romance and angst.  I was so caught up that I found myself practically hyperventilating and a little teary at a certain point, and it's been quite a while since a book got that sort of a reaction out of me. Yeah, there was a little bit of insta-love in the romance, but I can't even criticise that because it was founded in years of crushing on both sides.  YEARS.  I know I can relate to that from back in my teenaged years!
I was also pleased to see that some of my concerns going in were completely unfounded.  Would it live up to ANNA and LOLA?  Would Isla be as worthy and interesting a heroine as her predecessors?  Would Josh live up to the role of the leading man?  For that matter, would Josh be more likeable than he was in ANNA?  The answers you're looking for are yes, yes, yes and yes.  I never thought much of Josh in ANNA, I was so busy swooning over Étienne and Josh kinda faded into the background for me.  Somehow, and I have no idea how, Josh has superceded Étienne and become my favourite of the Perkins men.  I KNOW.  Those of you who haven't read this are saying "how is that even possible?!"  Believe me, IT IS.
The difference between Josh in ANNA and the Josh of now is Isla.  We see Josh through her eyes, and the perspective is totally different to Anna's perspective of Josh.  Obviously!  I mean, Anna certainly wasn't swooning over Josh.
As for Isla, I love her, plain and simple!  She reminds me so much of myself at that age and I really connected with her.  I understand why she did certain things in her relationship with Josh because they're things I would do.  I won't spoil it but where some people became frustrated, I did not… What that says about me, well I don't really want to think too hard about that!
Once again, Perkins swept me up in her beautiful words and before I knew it I had a hankering to travel back to Manhattan and Paris and also to Barcelona.  I don't think I've read books that make me want to travel as much as these do, the way Perkins paints a picture is sublime.  Not just that, there are also diverse characters in ISLA, much like in ANNA and LOLA.  It's done in such a way that blends in seamlessly and doesn't feel out of place one iota, much like real life I suppose.  To top it off, there are some wonderful cameos that tie everything together perfectly.  What can I say, I'm a happily ever after kind of gal!
So yeah!  That's pretty much how I feel about ISLA!  My favourite book of the series and possibly my favourite book of the year (so far…) 🙂 Give it a shot, especially if you're already a Perkins aficionado, and then we can jump around and scream together!
What did you think of this book?  Did you enjoy it?