3
August 17, 2014 by Bernadette ~ The Bumbling Bookworm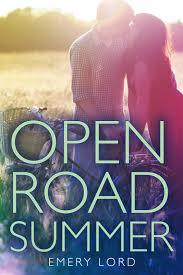 Open Road Summer by Emery Lord
Publisher/Year: Walker Childrens, 15 April 2014
Genre: Young Adult, Contemporary, Romance
Format: Hardcover
Source: I borrowed it from the library!
Rating: 4.5 stars
Other books from author: The Start of Me and You (expected publication 2015)

Book Depository | Goodreads | Twitter | Website
Goodreads Synopsis
After breaking up with her bad-news boyfriend, Reagan O'Neill is ready to leave her rebellious ways behind. . . and her best friend, country superstar Lilah Montgomery, is nursing a broken heart of her own. Fortunately, Lilah's 24-city tour is about to kick off, offering a perfect opportunity for a girls-only summer of break-up ballads and healing hearts.
But when Matt Finch joins the tour as its opening act, his boy-next-door charm proves difficult for Reagan to resist, despite her vow to live a drama-free existence. This summer, Reagan and Lilah will navigate the ups and downs of fame and friendship as they come to see that giving your heart to the right person is always a risk worth taking.
A fresh new voice in contemporary romance, Emery Lord's gorgeous writing hits all the right notes.
What I Thought…
This was such a fun read, I read it in almost one sitting and couldn't put it down!  I was a bit hesitant to start it given all the hype, but I knew I'd love it if I just gave it a chance and I'm so glad I did.
Reagan has been going through a tough time and needs to get away from it all, so she joins her friend Dee (known as Lilah to her fans) on her tour to support her latest album.  Dee has also been having a rough time of it, having been dumped by her high school sweetheart Jimmy, and welcomes her friend tagging along.  Of course, life doesn't stay drama-free for long for either girl, and then Matt Finch joins the tour and shakes everything up in the best way possible.
I loved the road trip aspect of the novel, any book with road trips/travel are a win for me.  I imagined Dee as a young Taylor Swift circa Fearless, and the side-story between her and Jimmy was an interesting take on fame.  We always hear about those who love fame and all the crazy it brings, but it's rare to hear about those who sacrifice their love because they DON'T like what fame entails.  Love was never the problem between Dee and Jimmy, but it wasn't enough to keep them together with Dee's (or Lilah's) rising popularity.  It's this rising popularity that sets off a chain of events which brings Matt Finch into Reagan's life.
Matt Finch – what can I say that hasn't already been said!  As well as being the great guy that Reagan needed, he was also an amazing friend to Dee.  *swoon*  It was so lovely to have a musician love interest who wasn't a bad boy; I don't think I'd read a book with such a guy before Open Road Summer.  The bad-boy musician cliche can get a bit tired, so this was quite refreshing.  Matt Finch has definitely been filed away in the ever-growing list of book boyfriends!
The romance between Reagan and Matt is such a contrast to Reagan's last relationship, and the scars of that relationship influenced a lot of Reagan's behaviour – girl has trust issues, and justifiably so!  Reagan's friendship with Dee is one of the shining points of the book, although I didn't always like some of Reagan's inner monologue about other girls she encountered throughout the book.  It was a bit derogatory at times, and while I undertand Reagan's personality was a prickly one, sometimes I think she crossed the line a bit for no reason.  This is only a minor complaint though, and didn't affect my overall opinion of Open Road Summer.
One thing's for certain, I will definitely be snapping up my own copy of Open Road Summer when the paperback comes out!  This was such a fun, summery read and it helped me forget about the winter doldrums I've been going through, even for a little bit.  A fantastic debut by Lord, and I'm hanging out for The Start of Me and You now.
Quotes I Loved:
His eyes are somewhere between gray and blue, and his hair is somewhere between brown and blond, and I am somewhere between hostile and attracted.
Laughter feels like our flotation device — it won't pull us out of the storm, but it might carry us through, if we can just hang on.
This past year has been a lesson in letting go and holding on, and I don't know what to make of it. I guess I do know this: find a best friend, and hang on tight.
I think it's the bravest thing in the world – to run straight at love, even knowing how badly you could get hurt.
What did you think of this book?  Did you enjoy it?