1
July 10, 2014 by Bernadette ~ The Bumbling Bookworm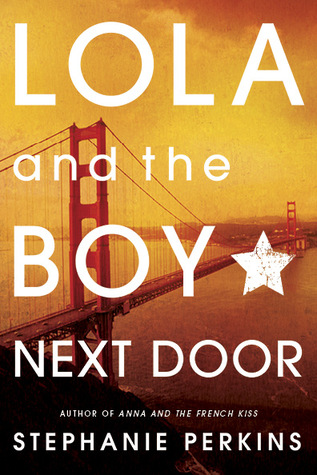 Lola and the Boy Next Door by Stephanie Perkins
Publisher/Year: Speak, 9 July 2013 (originally 29 September 2011)
Genre: Young Adult, Contemporary, Romance
Format: Paperback
Source: I bought it!
Rating: 4.5 Stars
Other books from author: Anna and the French Kiss and Isla and the Happily Ever After

Goodreads | Book Depository | Twitter | Website
Goodreads Synopsis
Lola Nolan is a budding costume designer, and for her, the more outrageous, sparkly, and fun the outfit, the better. And everything is pretty perfect in her life (right down to her hot rocker boyfriend) until the Bell twins, Calliope and Cricket, return to the negihborhood. When Cricket, a gifted inventor, steps out from his twin sister's shadow and back into Lola's life, she must finally reconcile a lifetime of feelings for the boy next door.
What I Thought…
It's no secret how much I ADORE Anna and the French Kiss, it was one of a couple of great books that got me back into reading again last year after a long hiatus.  Now, I didn't think it was possible but Stephanie Perkins has done it again!  Lola and the Boy Next Door is every bit as wonderful as I'd heard it to be.
Speaking of wonderful, the characters are just amazing. Lola is such a unique individual, that girl marches to the beat of her own drum and doesn't give a damn what anyone thinks of her. That kind of confidence in a teenager is refreshing!  I have NO IDEA what she saw in Max but that guy is a straight up douchebag.  But not Cricket… Cricket is nothing but lovely and kind and very sweet!  His misunderstanding with Lola when they were younger made me sad, and I spent the entire book hoping the nice guy wouldn't finish last 🙂 Seriously though, there are not enough books out there where the girl is with the 'bad boy' and the nice guy is the one pulling her attention away.
This review wouldn't be complete if I didn't touch on the awesome diversity this novel is well known for, which seems to accurately depict San Francisco's melting pot of cultural and social diversity.  It's probably why Lola fits in so well there, she'd be getting so much side-eye if she lived in Melbourne where black is the uniform for most!  From the gay dads to the Korean best friend, Perkins is no stranger to diversification amongst her characters.
And speaking of Lola's dads, they are so cool, I love them!  Sure, they're overprotective, but it's great to see Lola get along with them so well – I haven't seen that all too often in YA books.  It was also lovely to watch Lola grow as a person and find herself in spite of all of her family issues with her birth mum, along with the Max troubles, the Cricket dramas and the Calliope misdirections.  Man that girl has a lot on her plate!
Also, the world building is sublime; if I didn't already want to visit San Francisco, I certainly do now!  In fact, for all 338 pages, it was as if I was already there.  The writing is so descriptive, and not in an insufferable way.  Overly descriptive writing can sometimes drive me crazy but Perkins has a way of building her worlds without making me feel like I'm drowning in them.  Oooh, and there's a cameo!  Several, in fact, of some wonderfully familiar faces.  I won't spoil who (although you probably already know!) but it was awesome.
This might sound slightly rididulous but from the cover to the characters and everything in between, this book is just so glorious!  I must say, I'm SO glad that I discovered this series, it is simply magical.  Between ANNA and LOLA, Perkins has become an auto-buy author for me.  And don't you worry, my copy of ISLA will soon be pre-ordered and waiting to be sent to me!  Only 35 days to go… 🙂
P.S. If you can't wait that long for a taste of ISLA, check out Swoony Boys Podcast for a sneak peak, you won't be disappointed!  Seriously, don't walk, RUN!
What did you think of this book?  Did you enjoy it?  Are you as excited for ISLA as I am?!?!??