Leave a comment
June 22, 2014 by Bernadette ~ The Bumbling Bookworm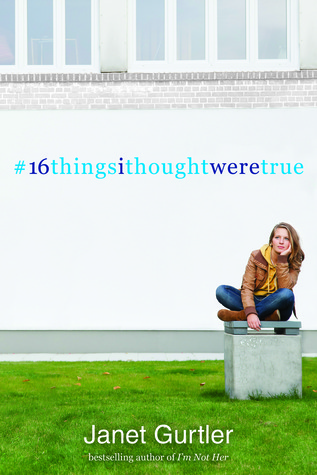 #16thingsithoughtweretrue by Janet Gurtler
Publisher/Year: Sourcebooks Fire, 4 March 2014
Genre: Young Adult, Contemporary
Format: Paperback
Source: I borrowed it from the library!
Other books from author: I'm Not Her, If I Tell, Who I Kissed, How I Lost You, and more…
Book Depository | Goodreads | Twitter | Website
Goodreads Synopsis
Heart attacks happen to other people #thingsIthoughtweretrue
When Morgan's mom gets sick, it's hard not to panic. Without her mother, she would have no one—until she finds out the dad who walked out on her as a baby isn't as far away as she thought…
Adam is a stuck-up, uptight jerk #thingsIthoughtweretrue
Now that they have a summer job together, Morgan's getting to know the real Adam, and he's actually pretty sweet…in a nerdy-hot kind of way. He even offers to go with her to find her dad. Road trip, anyone?
5000 Twitter followers are all the friends I need #thingsIthoughtweretrue
With Adam in the back seat, a hyper chatterbox named Amy behind the wheel, and plenty of Cheetos to fuel their trip, Morgan feels ready for anything. She's not expecting a flat tire, a missed ferry, a fake girlfriend…and that these two people she barely knew before the summer started will become the people she can't imagine living without.
What I Thought…
Ah, another book I've waited a bit too long to review!  It has nothing to do with my feelings for the book itself, I'm just such a procrastinator!  So I apologise if this is a bit vague 🙂
I'd been waiting a while to get this book from the library because it was on order, and I was so excited when it came in!  Luckily, it lived up to my expectations and was a very enjoyable read.
Morgan is on a journey to find her unknown father, prompted by her mother's heart attack.  Along the way, she's joined on her roadtrip by two of her summer job colleagues, Amy and Adam.  Morgan seemed very closed off in the beginning to everyone in her real life, and Twitter was where she was most open.  This book is about her opening up to people around her in real life, and it was wonderful to watch her friendship with Amy and Adam grown, in part because they wouldn't let her deal with things on her own.  The flirtation between her and Adam was also really sweet, if on the backburner for most of the book.  It's certainly not the focus of the book, which is more about friendship and family with a sprinkle of romance.
The journey for Morgan to find her father was realistic and heartbreaking, although there seemed to be hope for their relationship in the end.  Most of this was the fault of Morgan's mother, for reasons explained in the book.  Unfortunately, this seemed to be skimmed over a bit towards the end due to another shocking thing that happened involving Amy, which I won't spoil for those of you who haven't read this.  The Amy storyline felt a bit rushed to me, and I'm not sure that it really belonged.  It just kinda came out of the blue and while there had been inklings of it throughout the book, I still didn't feel it was necessary.  I would've preferred it if the book focused more on the family side of things rather than introduce a shock almost at the end of the book.
I was so pleased with the use of social media in this book, since it was a given that Twitter would feature with the hashtag title and the synopsis.  I have complained in the past about books that fail to use social media effectively, but this is not one of them thankfully.  It wasn't confusing or gratuitous, it very much felt like an intrinsic part of the book.  And it felt very modern!  I have no issue with social media being in books, since it forms a major part of our lives in real life, but it needs to be done in a way that reads well and fits in with the book, and Gurtler has definitely achieved this.
I enjoyed reading #16thingsithoughtweretrue, and I know my library has some of Gurtler's other books so I'll be sure to track them down.  If you enjoy coming-of-age books with a focus on friendships and family, then this is one for you.
Rating: 3.5 Stars
What did you think of this book?  Did you enjoy it?