1
June 16, 2014 by Bernadette ~ The Bumbling Bookworm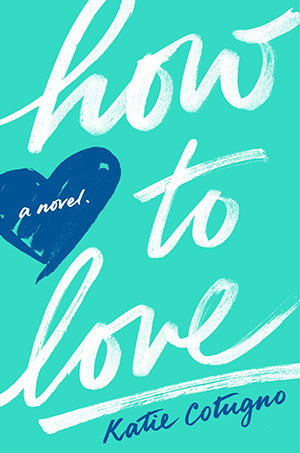 How to Love by Katie Cotugno
Publisher/Year: Balzer + Bray, 1 October 2013
Genre: Young Adult, Contemporary, Romance
Format: Paperback
Source: I bought it!
Other books from author: This is her first book!

Book Depository | Goodreads | Twitter | Website
Goodreads Synopsis
Before: Reena Montero has loved Sawyer LeGrande for as long as she can remember: as natural as breathing, as endless as time. But he's never seemed to notice that Reena even exists until one day, impossibly, he does. Reena and Sawyer fall in messy, complicated love. But then Sawyer disappears from their humid Florida town without a word, leaving a devastated – and pregnant – Reena behind.
After: Almost three years have passed, and there's a new love in Reena's life: her daughter, Hannah. Reena's gotten used to being without Sawyer, and she's finally getting the hang of this strange, unexpected life. But just as swiftly and suddenly as he disappeared, Sawyer turns up again. Reena doesn't want anything to do with him, though she'd be lying if she said Sawyer's being back wasn't stirring something in her. After everything that's happened, can Reena really let herself love Sawyer LeGrande again?
What I Thought…
So, I've waited a BIT too long to write this review, considering that I read this almost two months ago, so it might be kinda vague at times.  What won't be vague is how much I enjoyed this book!
I've gotta say, I LOVED the relationship between Reena and Sawyer.  Their families were friends and business partners, and they'd known each other for as long as they can remember, but Reena's love for Sawyer was one-sided in the beginning.  Their relationship was certainly disfunctional and messy when they got together in the Before, where they're haunted by a mutual personal tragedy that occurred around the same time that their relationship started.  Sawyer, however, has ISSUES – he's a bit of a cliched tortured musician type.  The relationship doesn't last long before he disappears, unknowingly leaving Reena pregnant in the process.  In the After, it's about Sawyer trying to make amends and Reena trying to work out how she feels and what's best for her little family – her current, stable partner, or Sawyer?  I won't give away the ending, but I was certainly pulling for Sawyer!
How to Love is told in alternating chapters that skip between two time periods, the Before and the After.  The Before chapters focus on Reena and Sawyer's relationship before he disappears, and it was certainly messy and complicated.  The After chapters take place three years later, when Sawyer returns to Reena's life in spectacular fashion.  For some people, alternating chapters with different perspectives or time periods can really throw them off.  But not me!  If it's done well, as it was in How to Love, it can be a very effective storytelling tool.  It certainly kept my interest for the entire book, telling in dribs and drabs the story that got Reena and Sawyer to where they were in the present.
For a first time author, Cotugno certainly gave me ALL THE FEELS with this book – her writing was amazingly descriptive.  This book made me feel like I was in Florida, hot and humid, and a part of Reena's life.  Reena's pain and confusion, Sawyer's guilt in his attempts to make amends, their emotions just leapt from the pages.  The stuggles between Reena and her family, and also between Reena and Sawyer's family, felt real and genuine.  Both families were conservative and religious, and it was difficult for them to accept that she was pregnant at 16 years old, with no father in sight.  Three years later, she was still finding it difficult to be accepted, Sawyer or no Sawyer.  Sawyer had his own struggles with his family, which played a large part in his leaving town.  I like the focus on the family dynamics, as well as the relationship between Sawyer and Reena – this book wasn't a one trick pony with only a romantic storyline to keep track of, and all of those secondary plot points intersected to make a very enjoyable read.
This is Cotugno's first book and I certainly hope it's not the last.  I enjoyed this a lot, devouring it in one sitting.  I hope I have the opportunity to do so with more of Cotugno's books in the future!
Rating: 4 Stars
What did you think of this book?  Did you enjoy it?